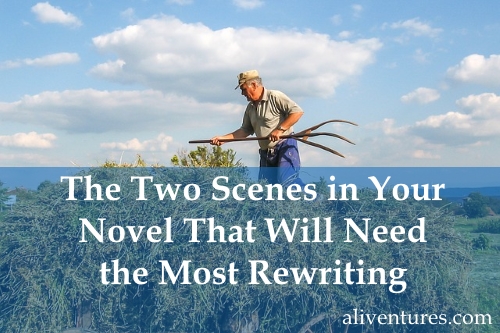 Novels are tricky. There's so much to juggle that no-one gets it quite right the first time round … and most authors end up doing wholesale rewrites, rather than just making a few editorial tweaks.
I've come to accept that rewriting is just part of the process of creating a novel. Each time I start work on a new book, I want to be a more efficient writer – and while I have found some things easier, I still end up doing a lot of rewriting and reworking.
Maybe it's the same way for you.
Whether you're working on your first draft of your first novel, or you've completed a bunch of novels already, there are two scenes that you're likely to spend a lot of time rewriting:
The opening of your novel
The climax of your novel
However hard you worked in the first draft, and however much you planned, these are just really difficult scenes to pull off well.
But the good news is – even if your first draft doesn't quite hang together in these key areas, rewrites can fix anything! (more…)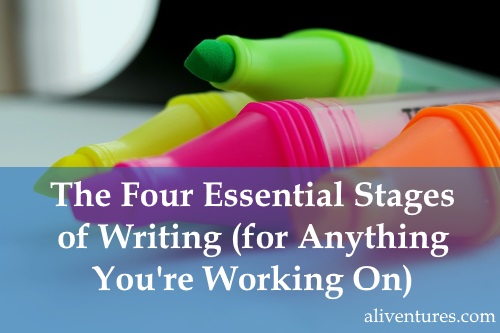 Note: This post was first published in 2011, and updated in July 2018.
Do you struggle to focus when you're writing, or do you find yourself starting and stopping a lot? It might be because you're skipping certain stages of the writing process without even realising.
In my post, 7 Habits of Serious Writers, I cover the importance of actually writing, plus the need to redraft. But writing and redrafting aren't the only stages you need to go through to produce an effective piece of writing.
Every finished writing project, big or small, passes through four stages:
Planning
Drafting
Rewriting
Editing
Sure, you could potentially publish a blog post without doing any planning, or any rewriting and editing. Unless you're very lucky, though (or writing something extremely short), you'll be lacking a clear focus, the structure won't quite work, and there'll be clumsy sentences all over the place.
It wouldn't really be a finished piece. It would be a draft.
The four stages don't always have to be tackled in order. Sometimes, you'll find that they can be combined – rewriting and editing, for instance. They don't necessarily have to be carried out by the same person. (When freelancing, I've written blog posts based on other people's plans, and I've often had my work edited by others.)
But it's crucial to be clear about what each stage involves. If you're struggling with a particular piece of writing, there's a good chance that you've skipped a step somewhere – or that you've tried to do everything at once.
About
I'm Ali Luke, and I live in Leeds in the UK with my husband and two children. Aliventures is where I help you master the art, craft and business of writing.
My Novels
My contemporary fantasy trilogy is available from Amazon. The books follow on from one another, so read Lycopolis before the others.
You can buy or sample them on your local Amazon, or read all three FREE in Kindle Unlimited.
One common issue that standard writing advice covers is how to cut down your first draft. And this advice comes up time and time again for a good reason. It's easy to over-write, perhaps telling the reader things that you've already shown them, or using five words…